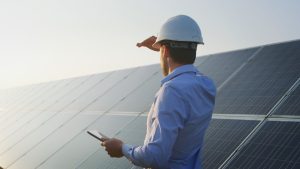 Should a restaurant company invest in renewable energy?
Renewable energy has become an increasingly popular form of energy generation, because of its many benefits over fossil fuels. It reduces greenhouse gas emissions, reduces the impact of global warming, and improves the environment by providing cleaner air and water. However, there are some potential downsides to using renewable energy as well, which we will discuss in this article. 
Should a restaurant company invest in renewable energy?
Running a restaurant chain means you have to make choices about how your business will run. And those choices often depend on your values and morals—especially when it comes to things like investing in environmentally-friendly practices. That's why restaurateurs now face hard questions: Should we invest in renewables, or just stick with what we know? Are renewables worth the investment? How green should my restaurant be? Should I spend money on solar panels, wind turbines, etc.? To answer these questions, let's take a look at some of the pros and cons of being more environmentally friendly.
What are the benefits of solar power?
One of the biggest benefits of solar power is its low operating cost. Solar photovoltaic systems can generate electricity for less than 5 cents per kilowatt-hour (kWh). After initial installation costs, it's basically free to operate other than some minor annual maintenance. The price of solar panels has dropped dramatically in recent years, making them much more affordable.  There are also some great financial incentives available for those who install solar panels: these include tax credits, rebates, and grants.
What are the risks and challenges of solar power?
If you're thinking of getting into solar power, it's important to understand the risks and challenges involved. Solar power requires an initial investment, which may be prohibitive for some businesses. There are also concerns about the long-term durability of solar panels and how effective they are in extreme weather conditions. They also take up a lot of area, so unless you have a large roof, parking lot, or other open areas, you may not have the space needed for solar. 
What are the benefits? Even with these downsides, solar power has a lot going for it. It reduces your carbon footprint, improves air quality, and can save you money on your energy bills.
What are the benefits of wind power?
Wind energy is growing quickly. In the last decade, the number of wind farms has increased significantly and the U.S. now generates 4% of its electricity from wind, according to the Department of Energy (DOE). It doesn't seem like much, but when you consider that wind made up just 0.003% of U.S. energy production in 1999, it's clear how quickly things are changing. One thing to keep an eye on: As demand for renewable energy grows around the world, countries may want to start building offshore wind farms rather than using land-based ones. Offshore turbines have some advantages over their land-based counterparts: They can produce more power per turbine because they don't have as many obstacles getting in their way; they don't interfere with wildlife to the same degree, and they reduce local noise pollution.
What are the risks and challenges of wind power?
Wind power generates noise pollution due to its spinning turbines, especially near urban areas, so land usage may also be an issue for certain wind farms. Wind power may not be as reliable as other types of energy. You can't always predict when there will be strong winds, so if that is your main source of power, there are likely times when your electricity supply won't meet demand. On top of that, if too many people rely on wind power and their systems are not properly balanced with others (for example, it gets really windy and everyone turns on their air conditioners), they could end up creating more problems than they solve. For example, blackouts or brownouts might occur because there isn't enough electricity being generated by other sources, like coal or nuclear plants. These issues have led some countries to require utilities to buy back excess power from customers who generate it themselves using solar panels or small-scale wind turbines. 
One of the main criticisms that wind power faces relates to its impact on birds. For example, The American Bird Conservancy estimates that 90 % of all eagle deaths are due to collisions with wind turbines.
What are the expected paybacks on renewables?
The expected payback on renewable energy is a topic that stirs up a lot of debate. The most popular approach to defining renewable energy payback is by using the energy returned on energy invested (EROEI) metric, which breaks down the ratio between how much fuel it takes to create an energy source and how much power that source produces. In the fossil fuel world, EROEI is typically around 10:1, meaning that for every unit of fuel we burn, we get back ten units of useful power. For renewables, however, these ratios are substantially lower because there are many factors to consider when calculating EROEI. For example, not all solar panels produce equal amounts of power or have equal lifespans; neither do wind turbines or hydroelectric dams. That means their actual paybacks will vary greatly due to their characteristics and locations.  So, to determine your particular payback, you will need to work with a combination of your utility and your renewable energy vendor for that specific location. 
What about tax incentives?
The federal government has been subsidizing renewable energy since 1992 when Congress created a tax credit (the Investment Tax Credit) that gave people or businesses who invest in renewable energy systems a tax credit on their investment. The idea was to incentivize private capital by making it cheaper to go green and, over time, they increased that amount to a whopping 30%. If you had made a $50,000 investment in solar panels ten years ago, you'd have gotten $15,000 back in tax credits—almost half off your original cost. However, there is no telling how long that will be on the books. Work with your renewable energy vendor to determine what your estimated tax incentives could be for each project.
As you can see, the federal government (also state and local governments) has been investing heavily in renewables for 30 years. Per one study, "incentives for solar and wind from 2005 to 2015, it is estimated that the Federal government spent $51.2 billion, with tax incentives accounting for 90% of the total."  If we extrapolate that figure for a 30-year period, that's over $153 billion. 
Is renewable energy a mature technology?
In recent years, a lot has been said about renewable energy. For example, experts have claimed that it is a mature technology that has proved itself in many parts of the world. The technology has also been portrayed as one which could be an efficient alternative to non-renewable sources, such as fossil fuels. But is it? In truth, we don't know enough about renewable energy just yet to declare it either a wise investment or not. There are positive signs, but there are also some uncertainties. It will take more time before we can come up with any definitive answers on whether it is truly worth investing in.
What about the materials used in renewable energy products?
According to the World Bank's study, "The Growing Role of Minerals and Metals for a Low Carbon Future".  
"The report clearly shows that the technologies assumed to populate the clean energy shift—wind, solar, hydrogen, and electricity systems—are in fact significantly MORE material-intensive in their composition than current traditional fossil-fuel-based energy supply systems. Precise estimates of the actual demand for metals are predicted by at least two independent variables: the extent to which the global community of nations actually succeeds in meeting its long-term Paris climate goals and the nature of intra-technology choices. In other words, for example, not only is it a function of how many wind turbines, solar panels, and low emission road vehicles will be deployed, but which wind, solar technologies, and zero/low emission vehicles will dominate. 
The study continues by saying "the most notable finding is the global dominance China enjoys on metals—both base and rare earth—required to supply technologies in a carbon-constrained future. Both production and reserve levels, even when compared with resource-rich developed countries (such as Canada and the United States, and to a lesser extent Australia) often dwarf others. India is dominant in iron and steel and titanium, and Indonesia has opportunities with bauxite and nickel, as does Malaysia and Philippines—with cobalt— to a lesser extent."
So, two things to consider here: 1) the materials needed for production are not located in US-friendly nations, and 2) these materials are not easily recyclable and may create a larger waste concern than we currently have with fossil fuels and nuclear energy. 
GWT2Energy is here to help you in these decisions
At GWT2Energy, we focus on consulting businesses like yours to help you choose from your energy options and tailor them to your business needs. When you decide that's what you want, we handle everything so you can get back to focusing on running your business. Now that's efficient!