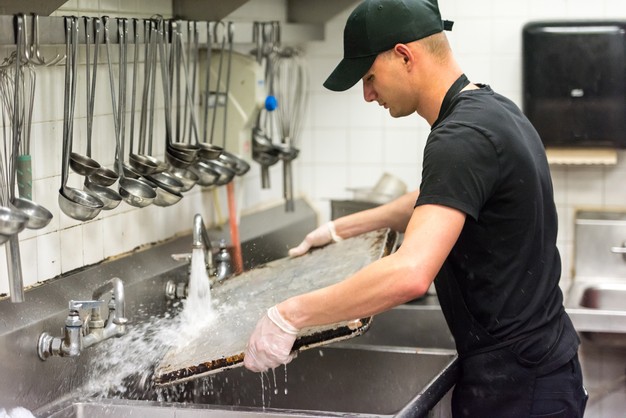 Unnecessary hot water usage is akin to watching cash go down the drain. Just thinking of wasted water is brutal to us as restaurants already use a lot of H₂O.
In fact, the EPA states that US restaurants use over 50 billion gallons of water annually. While using a good deal of hot water is inherent to the restaurant business, you can minimize the impact.
Here are 10 tricks to lower your restaurant's hot water bill:
#1 Routine water heater thermostat checkups
Check-ups help ensure maximum efficiency. If needed, you can reset thermostats to the proper temperature. Heating just a degree above what's required makes a big cost difference.
#2 Use high-efficiency pre-rinse spray valves
According to the EPA, pre-rinse spray valves amount to a third of restaurant water usage. It's clear that every restaurant needs a high-efficiency spray valve.
#3 Look for WaterSense labeled appliances
All hot-water using equipment should be energy efficient. Looking for the WaterSense label is one way to find energy-efficient appliances.
#4 Fully load dishwashers
If you're using a dishwasher, fully load it every time. This simple cost-saving measure comes down to proper planning and implementation.
#5 Use INSTANT-OFF valves
These handy valves make it quick and easy to turn off sinks, and they stop faucet leaks. That's one useful combo and is why we recommend these valves. Learn more about INSTANT-OFF valves.
#6 Get the best possible water heating energy prices
GWT2Energy offers supply-side solutions to help keep your utility costs down. For example, in regulated markets, we negotiate with utilities to get your restaurant the low rate it deserves. In deregulated markets, our analyses can help all restaurants within an organization with thoroughly researched RFPs that get results.
#7 Check everywhere for leaks and repair them ASAP
Water leaks involve more than dripping pipes. Also, look for them in dishwasher hoses, sinks, mop buckets, etc.
#8 Use efficient landscaping practices
You should always follow best water use practices for your restaurant's landscaping needs. This includes efficient watering schedules and equipment.
#9 Hand washing sink upkeep
This involves training employees to recognize when a sink has problems. For example, faucets with automatic sensors should not run unnecessarily long.
#10 Run cold water in garbage disposals
You may think hot water is best because it's more likely to keep the disposal clean and thus operate more efficiently. However, it's best to run cold water. This saves on your hot water bill and is recommended by plumbers to keep any food fats from gumming up the system. Alternatively, if possible, you may want to end the use of a garbage disposal altogether.
Hot water conservation "tricks" are a small but integral part of a strategy to implement and maintain a restaurant energy plan that maximizes profitability. GWT2Energy will gather your restaurant's water and energy use data, pinpoint where you can make money-saving changes, and monitor your use after the changes.
This way, we can work together to maximize your water heating bill savings.
Contact us at GWT2Energy to discover more about how our energy-efficiency experts can help lower all your restaurant's utility bills.