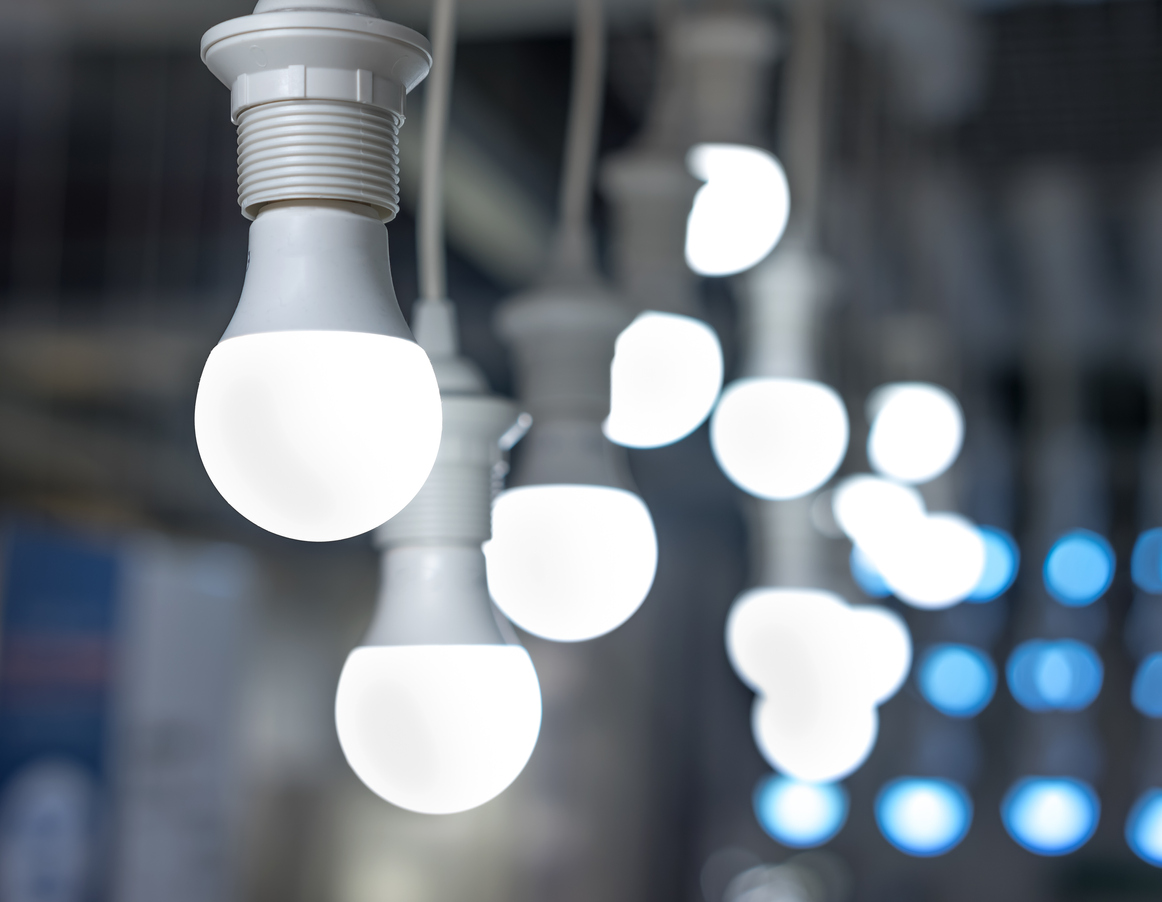 Converting your current lighting to LED lighting is the easiest way for you to move your restaurant towards higher electrical efficiency. Covered in a previous article, we discussed why LED lighting is a wise choice. Requiring no substantial equipment conversions or otherwise drastic changes, this should be the first step taken to reduce your energy bill. But, how should you go about making this a reality?
The answer: quite simply.
Plug and Play
The idea of converting your current lighting may seem like a daunting task. It may even make that to-do list seem all but out-of-reach. I assure you, though, there is no need to view this simple change as a burden of any kind.
The simplistic beauty of lighting systems today generally require little to no hardware changes. LED light bulbs are constructed to fit into most standard incandescent light bulb sockets due to their simple threaded screw-in designs. Changing traditional light bulbs is that simple. Remove the current light bulb and replace it with a high-efficiency LED light bulb just like you would for any other burnt-out bulb.
Save yourself some hassle, though, and bring your old light bulbs with you to verify the LED options will work with your current fixtures.
Restaurants and other commercial areas generally rely on more than standard light bulbs, though. Fluorescent tube lighting is another source of light that will need to be converted to LED to lower your energy bill even farther. This is another easy conversion.
You see, most LED tube lights are compatible with current fluorescent light fixtures, so making the switch to LED is as simple as removing the fluorescent tube and replacing it with an LED alternative.
Since CFL and fluorescent tube lights contain mercury, visit the Environmental Protection Agency website to ensure you're properly disposing of these potentially harmful products.
What Light is Right?
Replacing current light bulbs and fluorescent tubes to LED sources is simple, but what lighting is right for you and your work environment?
Most homes find themselves filled with 2700K light bulbs, generally producing what is referred to as cool white light. The lighting requirements for a restaurant will likely differ depending on the areas being lit. Dining areas will require dimmer and warmer lighting to create the ambiance necessary for a fine dining experience. The production area will require brighter and cooler lighting to ensure accurate food production and safe working environments.
So, before purchasing your new LED lights, browse the various lighting options to guarantee each area of your establishment has the appropriate lighting for the tasks at hand and the experience you wish to provide your customers.
The Progressive Entrepreneur
Savvy restaurant owners around the country are saving themselves substantial amounts on their energy bills. Will you join the countless progressive entrepreneurs that are building more efficient and successful businesses, or will you be dwarfed by those that have made the change?
Contact us today, and let us help you build a more energy-efficient presence for your restaurant that will endure for years to come.