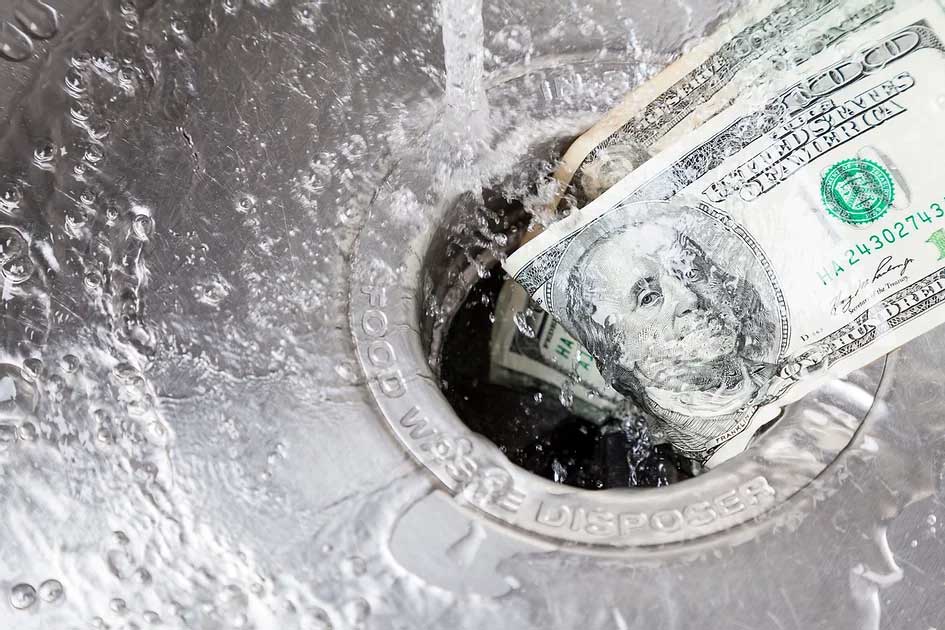 Have you ever looked at your home water bill and thought it was just too high? Water and sewer prices greatly affect restaurants as well, drastically reducing your profit margins. However, restaurants face different challenges. The techniques we use at home are not as effective to help lower sewer charges at our establishments.
Additionally, recent increases in sewer costs have not benefited restaurants.
Water and Sewer Costs Are Rising
Despite advances in technology, rates for both water and sewer are rising across the country. In fact, across 30 major U.S. cities, rates have risen 41 percent since 2010!
Sewer rates have risen even higher. For some areas of the country, local governments have tried to ease this burden on residential customers by shifting rates. In these models, businesses that discharge highly concentrated wastewater are charged more than their residential counterparts (Source: Circle of Blue).
So, why exactly are water and sewer rates increasing so much?
Unfortunately, there is not a short or easy answer to this question. Rates have risen rapidly in recent years in order to accommodate changes in federal and state environmental mandates, aging infrastructure–and the costs to repair or replace it, increases in costs for maintenance and facilities operations, and the growth in consumer demand.
All of these separately would result in a higher rate passed on to residential and commercial consumers; together, this basic need is becoming quite expensive.
However, commercial entities often bear the brunt of these price increases.
Restaurants Are Disproportionately Affected By These Increases
Restaurants, especially, are affected by changing sewer prices due to their output of highly concentrated wastewater.
There are several ways that entities that provide sewer services charge restaurants more. Although some may charge based on wastewater concentration, other entities are moving to a block pricing model. This ensures that commercial users–such as restaurants–pay a higher uniform rate for sewer services.
With either pricing structure, restaurants pay more than other commercial establishments due to the large volume of water required to operate their business.
How Restaurants Can Lower Sewer Charges Amid Increases
There are several ways that restaurants can offset the ever-growing price increases for their sewer charges. Based on our experience in the industry, we recommend several options:
One of the first places to look is inside your restrooms. Toilets can be a large source of wastewater that may seem difficult to control; however, installing low-flow toilets and urinals are an easy first step when looking at reducing costs associated with sewer output.
There are several other plumbing related options to consider as well: low-flow aerators, ensuring sinks and other water-using equipment do not leak, and switching to water brooms instead of industrial sprayers.
Monitoring water quality is important as well since it affects the operation of the equipment. Upgrading to more efficient equipment can lower utility bills as well as your sewer.
Also, using grease traps in areas outside of cooking, like hand sinks, can catch a lot of waste that you would otherwise be charged to process as well.
Lastly, restaurants can consider sub-metering to figure out where the most waste occurs, which can be used to enact money-saving measures.
Why Hiring A Professional Consulting Service Matters
Saving money on wastewater output can be a confusing endeavor. While it makes sense to try, where do you start?
Upgrading all your equipment may not be cost-effective in the long run, and continually testing water quality is a pain. You need the most cost-efficient solution possible because you primarily focus on running a profitable business.
The list above barely scratches the surface for proven waste-reduction techniques.
The consultants at GWT2Energy are industry leading experts with the knowledge and expertise to help you figure out where and how to best cut costs for both your water and sewer needs. For more information on how we can help lower sewer charges for your restaurant, or to schedule a free consultation, contact us today!