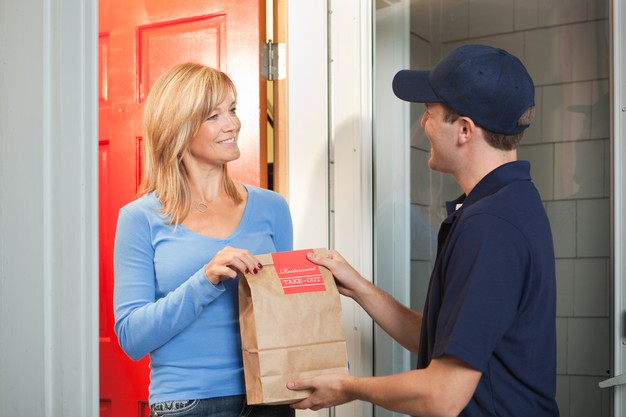 Boosting sales and reducing costs are the two main goals of any restaurant. Yet does adding delivery to your restaurant actually accomplish these?
Of course, pizza chains have long benefited from offering delivery, but would this apply to fine or even casual dining restaurants?
Let's explore these questions by highlighting three big advantages of offering a delivery service to boost sales for your restaurant.
#1 Increases Sales During Off-Peak Hours
The evening and late night crowd are often those that seek food delivery to their door. Meaning, restaurants who deliver have more opportunity to make sales during off-peak hours than those that don't.
Delivery orders will also fill in the times between rushes, as delivery expands availability to a larger potential customer base who either can't or don't want to leave their home or workplace.
Additionally, more sales will be made from customers who want to avoid the on-premises rush during peak times. You'll find that customers might choose a delivery from a restaurant they like better, opposed to simply visiting a closer restaurant they can reach more conveniently during peak hours.
#2 Creating a Buzz (Marketing Tool)
Many restaurants stay away from delivery service because the costs take away from their already slim profit margins. This is the wrong perspective when considering how great of a marketing tool delivery really is for your business.
The best way to get full marketability from adding delivery to your restaurant is to employ your own drivers with vehicles sporting your logo and phone number.
Having one or multiple vehicles (depending on the size of the restaurant) buzzing around the city is an ideal way to advertise a restaurant.
This works best when the delivery vehicles are identical and the logos easily recognizable. It's free advertising and is the perfect way to reach the area serving.
You also let potential customers know the delivery service is available in that area – call the large phone number on the vehicle to get food delivered today!
Even if the profit margins for delivery are small, restaurants will benefit from using this form of marketing. Having recognizable delivery vehicles zooming around town will create a buzz in the area you're serving, ultimately, resulting in a boost of sales.
#3 Create a Loyal Customer Base
Offering a delivery service will draw new customers into the restaurant's dining room and give their regular customers a convenient way to get the food they love at home or work.
This more than justifies offering a delivery service, as it gives restaurants a great way to create a loyal customer base.
With a delivery service available, restaurants can generate loyal customers in two ways instead of one! If the food is great, most customers will eventually use both ways to get the food they love, depending on their day-to-day situations.
Restaurants could even expand their menus to offer items more suitable for delivery, while still keeping their reputation as a fine dining establishment on-premises.
Basically, whether delivery or on-premises, restaurants can define the customer's experience to make them appreciate both. Certainly, this will pay off when a loyal customer base is created that uses each service.
Gaining the Right Perspective
Restaurants can't ignore how important convenience is becoming in our modern high-tech world; customer expectations are causing businesses to rethink the ways they've historically operated.
Adding delivery service, even for fine dining establishments, is one of the ways being considered and accomplished by restaurants today.
Gaining the right perspective is the key when creating a profitable delivery service that boosts sales for restaurants. Although offering a delivery service may not be profitable in itself, the overall benefits will be, especially, if restaurants employ their own drivers and have identical delivery vehicles with a recognizable logo.
So, offering a delivery service is a great way for restaurants to boosts sales and increase profits, which is half the battle. The other half is to decrease unnecessary expenses without decreasing the customer's overall experience, which is exactly what GWT2Energy is here to help with.
You see, GWT2Energy can help save restaurants up to 25% off their utility bills through innovative energy saving solutions, including automating, monitoring, and controlling critical systems. We have the partners, expertise, and experience needed to optimize energy utilization for our clients.
If you're interested in learning more, please contact us today for a free consultation.