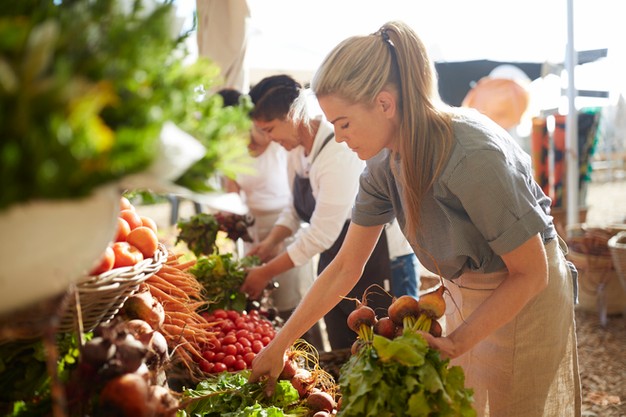 Farmer's markets became a popular trend in the 1990's when they saw a revival across the country. Smithsonian Magazine reported more than 2,600 Farmer's Markets in 1999 (50 percent more than five years prior, at the time), resulting in Americans spending $1.1 billion annually.
Today, The USDA reports nearly 9,000 farmer's markets across the U.S., but despite this growth in popularity, the USDA also shared that's nearly the same amount as back in 1999 of annual sales at $1 billion.
This can be quite disconcerting for today's farmers as well as consumers who increasingly seek out locally grown foods.
Why Are They Failing?
Oregon State University found that new farmer's markets are most vulnerable with 24 percent failing during or after their first year.
In fact, they determined five primary reasons why farmer's markets fail:
Small number of vendors;
Need for a greater variety of farm products with specific emphasis on fruits and vegetables – products considered basic to farmers' markets;
Lack of administrative revenue to meet operating needs;
Low paid or volunteer market managers;
High manager turnover.
Additionally, a report from National Public Radio suggests that market saturation is another reason why many farmer's markets are closing down.
What Can Be Done?
Only .15 cents of every food dollar spent at traditional food outlets is received by farmers. However, farmer's markets provide farmers and ranchers the opportunity to receive 100 percent of those food dollars.
In addition to helping local farmers, these markets also provide education, exposure, fresh products, and positive economic impacts both locally and nationally.
Generally speaking, larger farmer's markets thrive more than smaller ones because consumers tend to go to the markets with the largest selection of products. When demand outpaces supply, naturally today's "foodies" will venture to a larger market which will leave smaller ones struggling to make ends meet. Businesses, as a rule, must make enough revenue to cover operation costs and a farmer's market is no exception.
Given the opportunity to expand, smaller farmer's markets can become quite successful but – as with nearly all businesses – it starts with investing in the right things. Providing the right selection of products along with using as many cost-cutting techniques as possible is one way smaller markets can grow into bigger ones.
Restaurants, too, can help farmer's markets to thrive by incorporating their local products into their menus. In return, chefs can capitalize on the many benefits of creating culinary delights with locally grown products.
Since research has shown that "sales of locally grown foods increased sharply from $5 billion in 2008 to $12 billion in 2014 and are projected to reach $20 billion in 2019," it makes sense that restaurants could greatly benefit from the offerings of a local farmer's market.
In addition to offering suggestions on how your restaurant can utilize farmer's markets, GWT2Energy can work with you to become more energy-efficient. Contact us today so we can help you save on energy costs and increase profit margins for your restaurant.